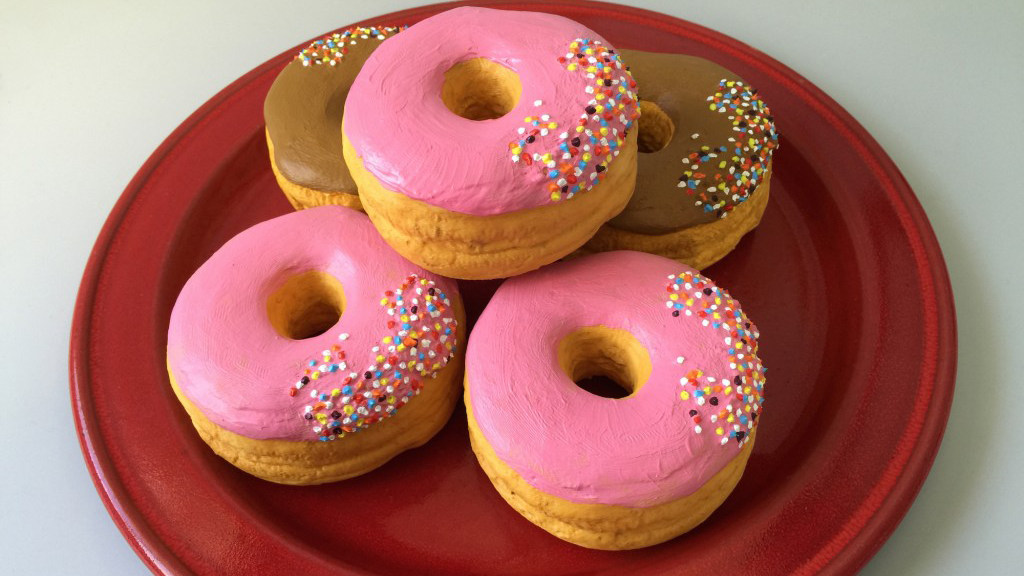 Decoy (ed. 5), 2015; 3D-printed, hand painted objects, 5@ 4 x 8 cm each ABS plastic, ceramic plate, acrylic paint.
The Decoy work is installed as a seeming oversight in the exhibition, as though the preparators have left their detritus in the gallery. In some ways the work is a comment on the invisibility of contemporary art in mainstream Canadian culture. It also speaks to gallery conventions and what is an accident or oversight in these contexts.
Decoy began when I learned that Tim Horton's doughnuts were decorated according to their flavour. I was interested in this as a semiotic system of sorts, so I started asking to purchase the doughnuts that had decorating "mistakes." Soon thereafter, all Tim Hortons doughnuts became centralized in their production, and then shipped to the outlets, so there were no more "mistakes." I began to think about the doughnuts as this totally normal part of everyday Canadian culture, while contemporary art remained a fairly obscure and remote experience. I decided to make an artwork that would sneak its way into mainstream culture, a decoy if you will.
I began to experiment with 3D scans of doughnuts using a structured light 3D scanner, run by technicians at Morro Images in St. Catharines ON. A structured light 3D scanner consists of a projector that projects the "structured light" onto the object to be scanned (a succession of many different gridded images). The two cameras (left and right from the scanner) each record each still frame state and thus create the 3d model. Unfortunately the heat from the system kept melting my subjects. In order to create an optimal scan, I physically cast the doughnuts in geltrate (after leaving them for 3 days to gain shore hardness with minimal shrinkage), and then created plaster positives from the geltrate molds. The plaster positives were slowly baked to perfect dryness, and painted a flat middle grey for best scan outcomes.
The models were printed with an Ultimaker printer in ABS plastic, at Centre 3 for Print and Media Art in Hamilton, ON, each taking 10 hours and 40 minutes to print. I worked with Darryl Gold, the media art technician who was kind enough to stay with the printer through the incredibly long print time. I enjoy using new technologies at artist-run centres as I feel they bring the right spirit of experimentation and enquiry to new work. I chose ABS plastic as it is non-biodegradable, and felt this absurd material fortitude best suited the spirit of the work. I then individually hand painted each plastic print tin acrylic artists' paint to make the final object seem quite realistic. I did add some acrylic gel medium to thicken the paint and permanently hold the brushstrokes, just to ensure that a close inspection of the object would alert the viewer as to its handmade nature. In creating this work, I quite enjoyed the fact that much technology was being employed to create something utterly banal.