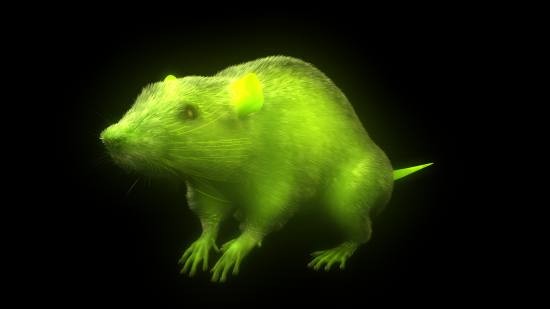 Geo-locative smart phone app, 2015
Video: http://vimeo.com/51470664
Free iTunes Download:    https://itunes.apple.com/us/app/invisible-histories/id921390469?mt=8
Free Android Download:  https://play.google.com/store/apps/details?id=com.igfich.invisiblehistories
Installation
"Invisible Histories" began when I came across the astonishing fact that 270,000 radioactive mice are buried near Niagara Falls NY as a result of research for atomic weaponry. Like the Underground Railroad, these mice operate as a secret and hidden history of the area, now manifested through this 3D animation. The video is installed at floor height, rear projected, so a nearly life size green glowing mouse runs along the gallery floor. This work exists as a type of monument, or anti-monument that engages in the missing spectacle in the Niagara Falls landscape—a landscape of otherwise extravagant sites. New media becomes an avenue for marking, memorializing and re-activating history. As activist art, it nods to critical animal studies, and questions the ways in which we engage, abuse and memorialize the animal other. It invites the viewer to visualize other historical outcomes, and hopefully by extension, to imagine other presents, and other futures.
Geo-locative Smart Phone App                                                                                                                                                                                                             *Free in the iTunes App Store*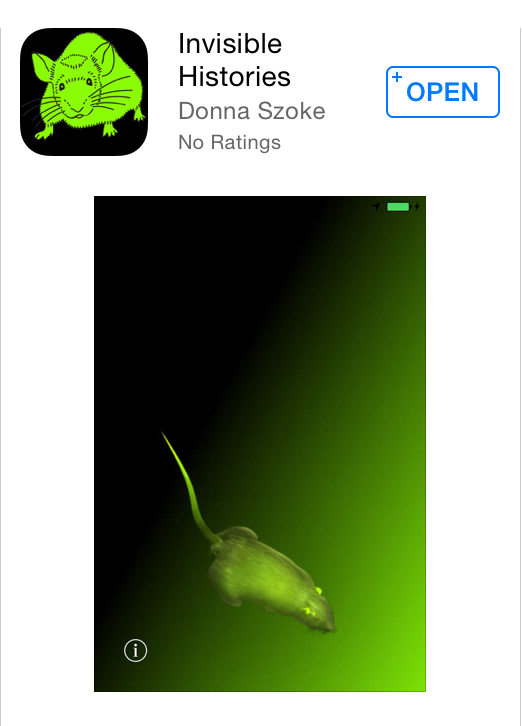 This interactive phone app gives the user feedback about the proximity and direction of the Niagara Falls Storage Site (NFSS), a nuclear waste facility that houses the remains of 270,000 radioactive mice. When the viewer launches the app it starts a video of a 3D animated green glowing mouse that runs across the screen. Using the phone's GPS and compass functions, the direction of the mouse indicates the compass direction of the storage site; the mouse runs across the screen with increasing frequency as one nears the storage site. The app will be distributed free with the premiere exhibition (2015).
Exhibitions: Video Installation
2013   Toronto Underground Film Festival (TUFF) , Sept 6-16
2013   In the Soil, St. Catharines, April 26-28
2012   Whispers and Rages, a Can-Am Exhibition, 164 Allen Street, Buffalo NY, Oct 5 (First Friday Event)
Reviews                                                                                                                                                                Steve Nadon. "Let the mice guide you: "Invisible Histories"  Brock Press, January 14, 2014 http://www.brockpress.com/2015/01/let-mice-guide-invisible-histories/
Holly Mohr. "Brock visual arts prof creates app to uncover historic nuclear testing" Brock News, December 19, 2014    http://brocku.ca/brock-news/?p=31340&wpmp_switcher=desktop
Keri Cronin. "Animal Histories in Contemporary Media" 2013
http://www.ourhenhouse.org/2013/05/animal-histories-in-contemporary-media-art/